Earth Gauge® is a free information service designed to make it easy to talk about links between weather and environment. Originally developed for weathercasters, the information is also available to the general public, educators, parents and students.
Check out three new 15-minute climate change modules: Extreme Weather, Regional Impacts and Sea Level Rise.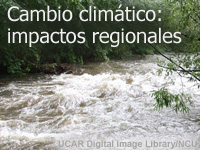 Visit the new Spanish section of Earth Gauge!
¡Visita las nuevas páginas web de Calibrando La Tierra!
December 9th, 2013
Every year, thousands of volunteers identify and count birds during Audubon's Christmas Bird Count (CBC). The annual count – which is in its 114th year – helps researchers, conservation biologists and others study North American bird populations over time. What have they learned? Winter bird ranges are shifting. Audubon's Birds & Climate Change analysis shows [...]
Read More
December 9th, 2013
Birds have the ability to migrate across national and international borders – the Arctic tern holds the record for longest migration distance, traveling over 40,000 miles from Greenland to Antarctica! Birds can migrate short distances, moving from higher to lower elevation on a mountainside; medium distances, spanning from one to several states; and long distances, [...]
Read More